#Finland #Pyhajarvi #CallioPyhajarvi #PyhasalmiMine
MineTRAIN training environment – also one of the deepest places in Europe
Training environment is located in the Pyhäsalmi Mine, 1445 meters underground, and the surrounding areas. The facilities are located in one of the deepest known places in Europe. We are in the middle of Finland about 450 kilometers north from Helsinki and close to co-operative Centria University of Applied Sciences (97 km from Ylivieska campus) and Oulu University (170 km). 
There are 5500 inhabitants in Pyhäjärvi city and the location is at an intersection of the E75 and 27 highways with excellent transport connections. The city is only a two-hour drive from five different airports, one of which is the international, Finland's second largest airport in Oulu.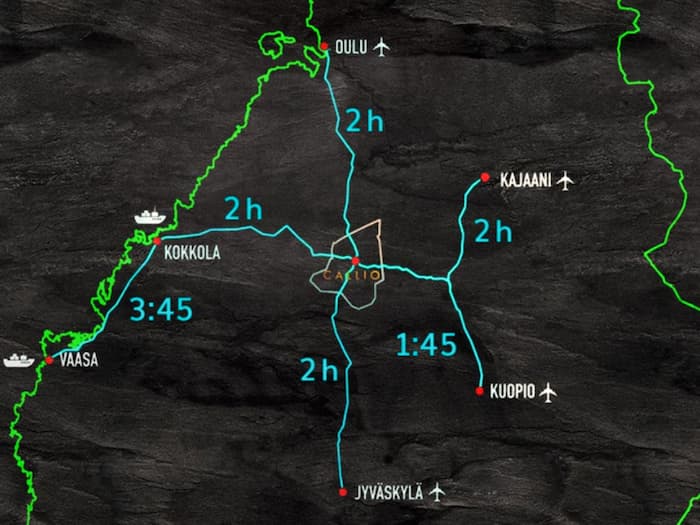 Pyhäjärvi, part of the Lakeland is where Finns come to recharge and reconnect with nature. The region offers things to do all year round, from cruises to fishing, paddle boarding, ice swimming and skating. As Europe's largest lake district, Lakeland offers plenty of space for all and a special spot just for you. MineTRAIN tailor makes packages specially for your group.
You will stay at the Marjoniemi village at the Pyhäjärvi Lakeside. The accommodation and meals are included in the course price. You can choose between different standards of accommodation for your stay. We can also offer special diet meals.
Here you can find more details about the accommodation. 
Callio is a globally unique multidisciplinary operating environment. It offers a diverse range of opportunities for success for new and innovative projects and established operators seeking new horizons alike, as well as for training and R&D.
For training and R&D, Callio offers an underground laboratory and testing environment that cannot be found anywhere else. In fact, the infrastructure of Callio has already been used for versatile research for dozens of years. The facilities also allow for extensive experiments. 
More info https://callio.info/   
Centria collaborates with companies and organizations to increase their competitiveness.
We aim at helping our customer in developing new products, business ventures and international activities and as well as in the process of entrepreneurship, by using our multidisciplinary expertise.
We offer up to date technology and the latest information technology applications to fit our customers' needs. We make the most of our team of experts, their know-how and the different kinds of laboratories at our use. Our R&D, continuing education services and broad project activities all aim at improving our customers' competitiveness.
Centria Research and Development is a part of Centria University of Applied Sciences. More info https://centria.fi/